As a full cycle UX design driven agency, Angle2 has always strived to create things that are useful, usable, and delightful for every single one of our clients. This has been our goal since our foundation in 2016 and our team has not wavered.
Through our hard work, our team has finally gained the recognition we deserve. Angle2 has recently been named as a top B2B company in Ukraine for 2021 by Clutch.
Clutch is an independent online reviews and ratings platform that creates a list of the best B2B firms in every industry from all over the world. They do this by using a unique verification system that allows them to determine the legitimacy of the information being sent to their website for publishing.
This means that underhanded businesses cannot sabotage their competition or artificially inflate their credibility through the Clutch platform. The only ones that appear are the genuine thoughts and experiences of the subject companies like this one: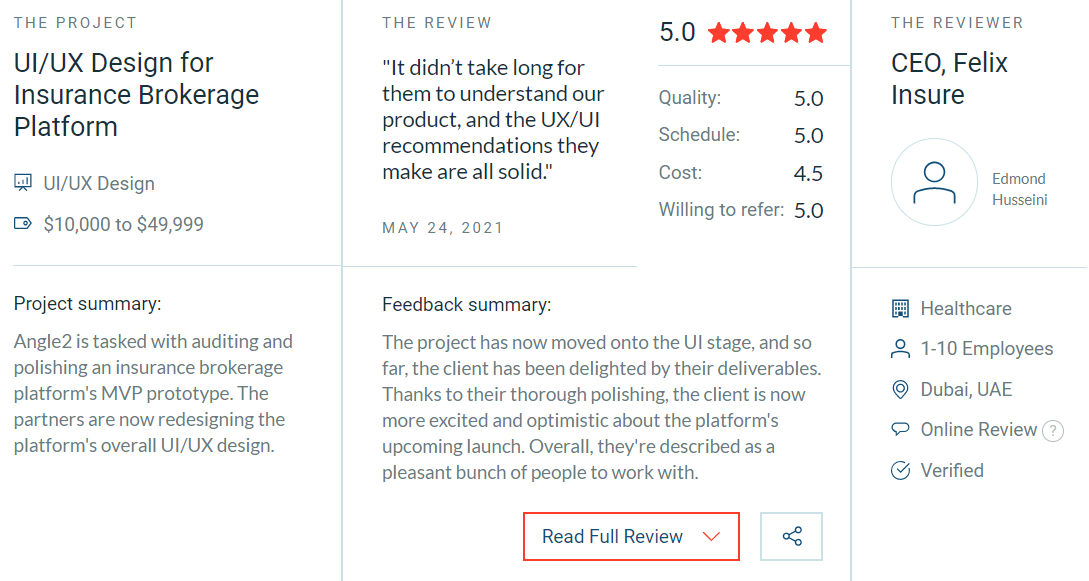 This is very welcome news on our part and we are quite excited for what it means for us moving forward. This is what our Head of Development Alexandr had to say when we first confirmed the news.
Because of Clutch's criteria we would never be able to gain this kind of recognition without the clients and partners that took the time to leave reviews on the platform. We'd like to thank everyone that made this award possible and hope they continue to support us in the future.
If you need anything regarding your platform's UI or UX design, we're the team for you. Contact us today and we'll brainstorm on the possibilities together.